Win your dream client with any of these 20 creative and easy-to-use social media proposal, or social media plan templates. It is a must-have planning method, if you are on the way to acquire potential clients and businesses for your marketing agency (or being a social media marketing freelancer).
Your proposal speaks about you, your company and the quality of services you are offering. Considering a number of significant elements while crafting the proposal, you can not only obtain a business, rather can keep all social media activities in a natural flow.
Why Us/About Us
Social Media Marketing Objectives & Goals
Defining Work Flow
Scope of Services
Time Frame
20 Customizable Social Media Proposal Templates To Win Clients and Businesses
Here are the compelling proposal or planning templates listed for your guidance. Using any one of these will definitely take you in the right direction of winning a new client.
This social media proposal template is a simple one with everything very explicit. The objective is clearly mentioned to specify what would be the final goal of social media marketing. The detailed work flow is mentioned in the sub-heading of Method.
And to give client further elaboration, samples of every phase are provided as well. The samples include proper screenshots to make everything crystal clear. This template is an ideal one for small business.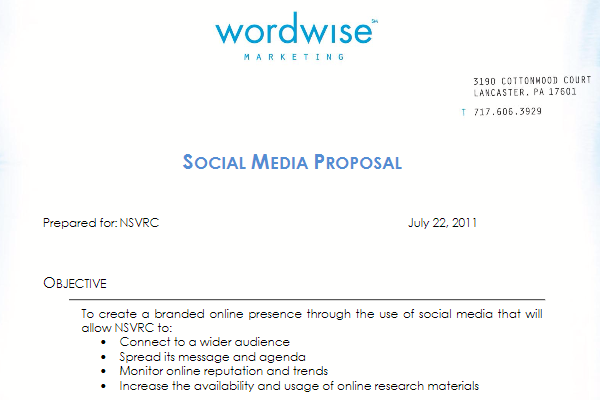 A very appealing design that can be printed out as well. This social media proposal is enhanced with the smart selection of colors and design features. It embodies an elegant cover. Moreover, About Us section defines about the background of agency.
It also clearly mentions about the steps that will be taken to carry social media campaign. What are the real objectives of campaign, detailed activities involved, timeline and cost estimation as well.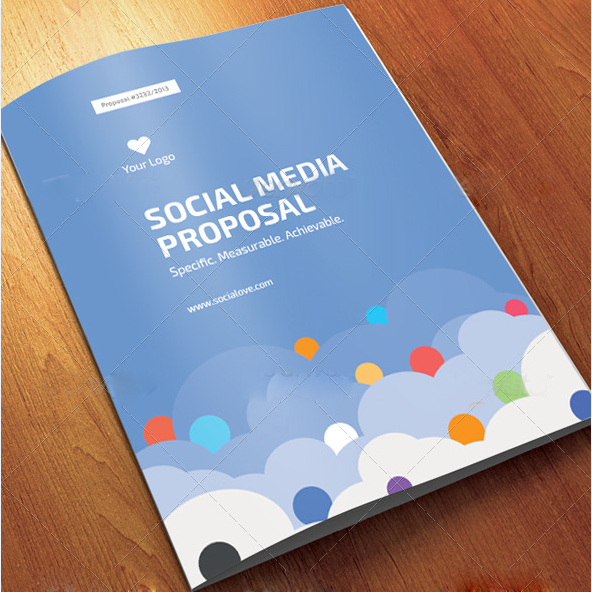 This is another customizable template for small business that is furnished with elegant color scheme. Everything is made quite simple to edit and amend as per your own requirements.
You can easily specify about your social media goals, objectives and tools to be used in project. It features portrait format with customized colors. This will definitely give you an edge in securing a potential client.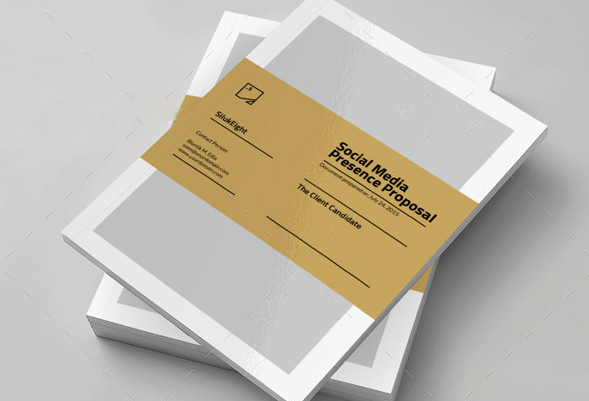 A very creative social media plan template that can be edited as per your target business. The template focuses on the RACE approach, i.e. Reach, Act, Convert and Engage. With a lucrative style, this approach is used to elaborate every phase that how you can achieve goals and objectives.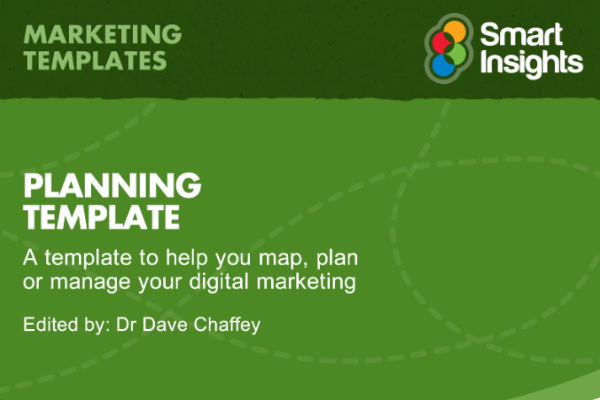 This template is designed with a focus on defining a company's social media strategy. But it can be customized to give a touch of proposal in order to acquire a new business. A complete overview of company is presented in the start by defining its mission, vision and objectives.
Moreover, how a company is going to carry out a social media plan, what will be the general strategy to achieve goals and details about target audience; all these elements are properly described. Further, you may add a cost or product estimation as well.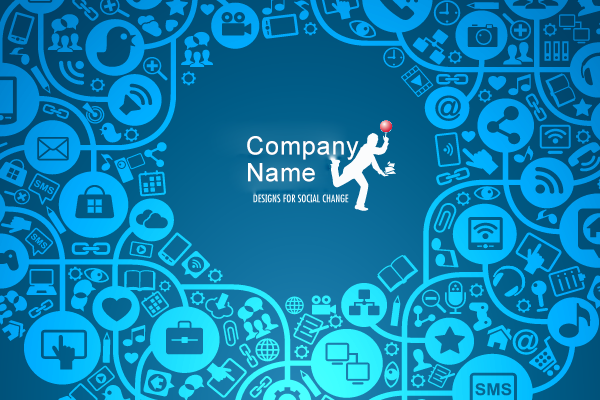 With this social media proposal, you can design a complete digital marketing plan/proposal. And if you are covering only social media strategy, omit other things and focus only on social media plan.
With the help of tables, the plan clearly specifies about Social Media Marketing platforms, target audience, the key team members involved in that particular activity.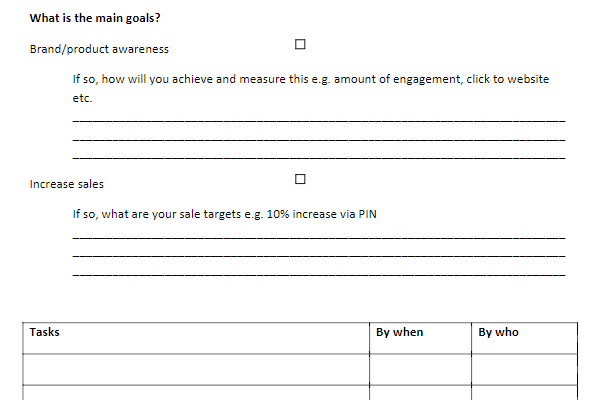 This is another creative way to present a proposal to your client/
This is another creative way to present a proposal to your client/small business with an in-depth analysis of social media strategy. In the start, it is mentioned that what is asked by the client to maximize. Then, long term objectives of an agency/freelancer can be provided for more insights.
A complete strategy with tools to be used, tactics, time frame, targets, responsibilities and objectives are defined in a creative manner. With a simple design and little graphics, the focus is on explaining every phase in detail.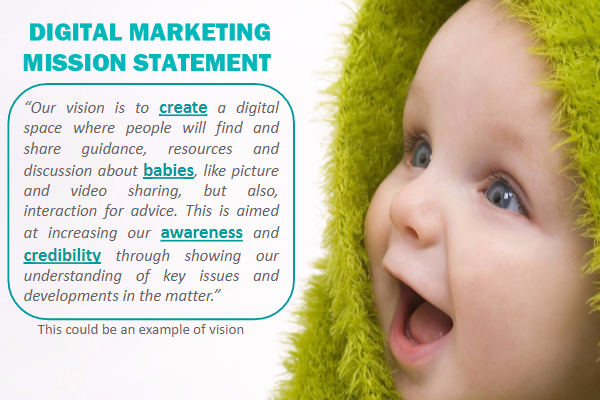 This is in actual a social media tactical plan. You can customize it with more add-ons to make it a compelling proposal for the client. What are the objective and what action will be taken to achieve results on every social media channel – it is elaborated with the use of simple screenshots and fonts.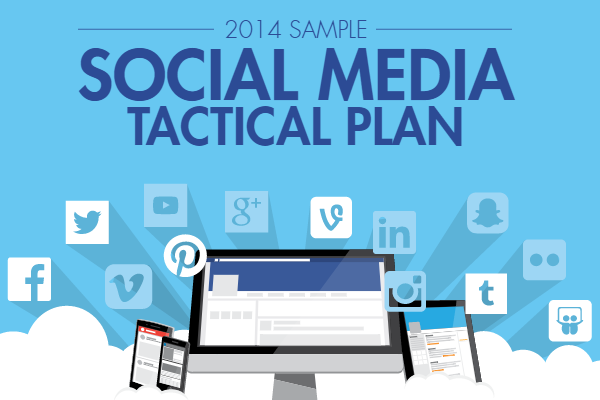 It is a very simple proposal template that addresses a client to specify about the services your company will be providing. A general social media strategy alongside the execution plan is included.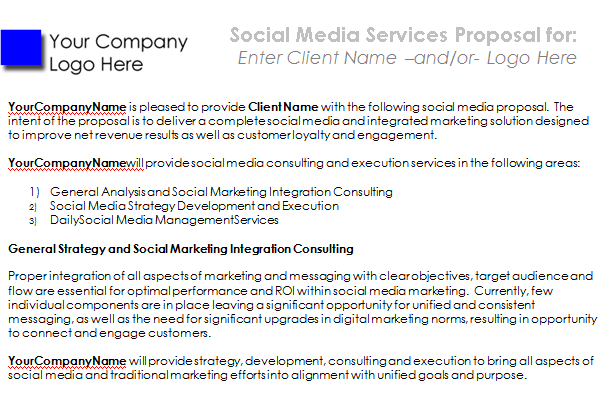 A Power point presentation to give a detailed overview of youer social media marketing plan. This is an easy to customize template that has different slides, each one serves a particular purpose. You can easily define:
Your target audience
Tools to be used
What things to do in order to achieve goals
What keywords/concepts must be in focus
Social media calendar
Table showing key members with their roles
How monitoring will be performed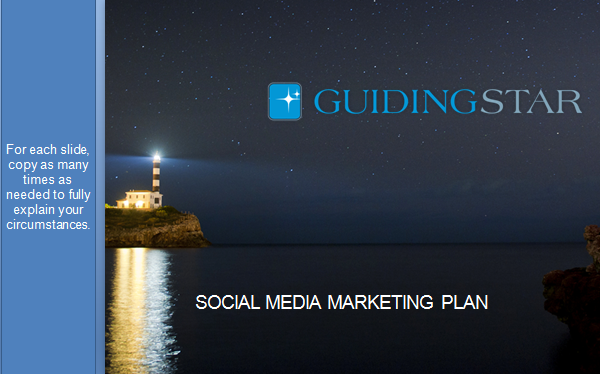 This social media strategic plan presents a handy solution to be customized as per your needs and requirements. It embodies:
Social media marketing goals
Content types and Marketing tools (Fan Page Robot, Hootsuite etc.)
Purpose of social channels to be focused
Action plan for every channel in tabular form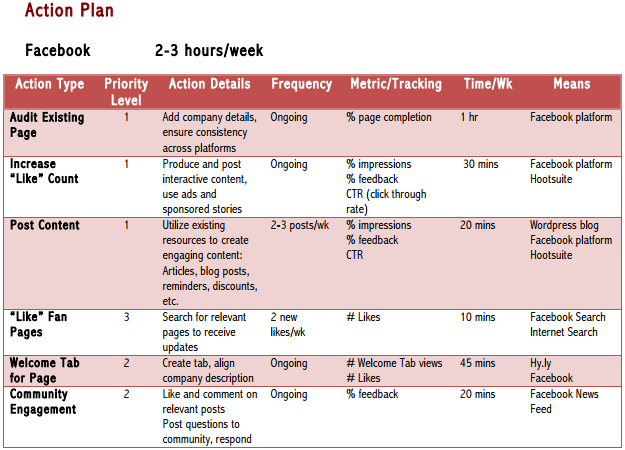 This one is a power point presentation with a great selection of slides. With the whole campaign proposal, the background of social media, target audience, marketing channels and activities, social media campaign sample; all are presented in a concise manner.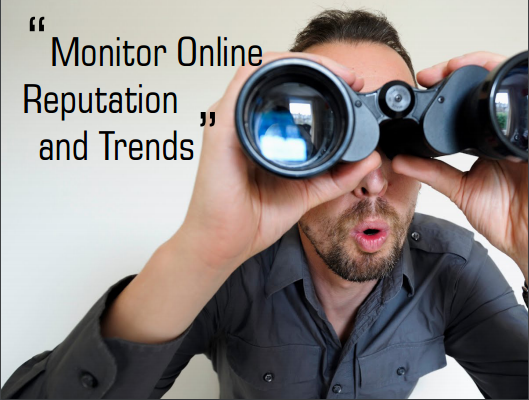 With this social media strategy template, you can easily explain all necessary points to a client. The tone and design are kept so simple that it makes it comprehensive and easy to understand for any kind of client. It encompasses:
Social media objectives
Target audience
Internal strategy to define how the plan will be reviewed by senior management
Tools selected to carry out the campaign (Like you can use Twitter Automation in order to generate interesting content as well as to acquire leads.)
Performance metrics to monitor and track the success.
Team members
Budget estimation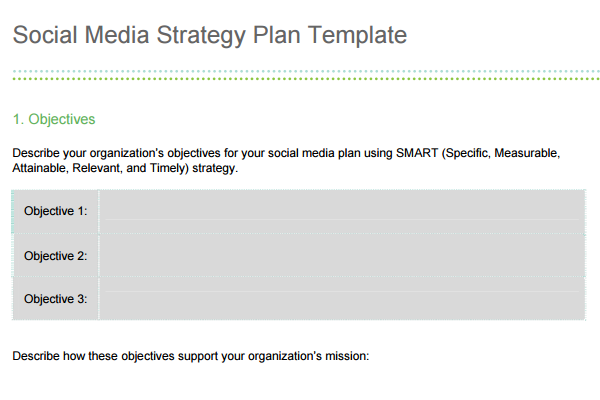 This template is basically in the form of a tactical plan. It focuses on different social channels and specifies how to work on those channels with the clear specification of performance metrics. You can easily customize it by incorporating:
About us section
Team members and workflow
Cost estimation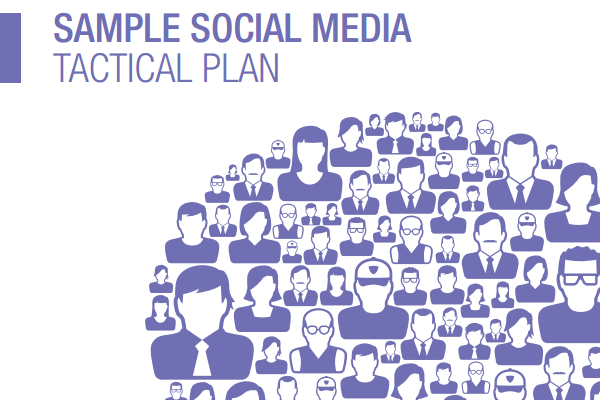 With this template, you can have a handy power point presentation to be customized for your company. Very decent slides with concise text that can be edited easily to include details as per your demands.
Overview of top social channels
How the company can help the client in achieving social media goals?
Proposed social media setup
Short contractual agreement in the end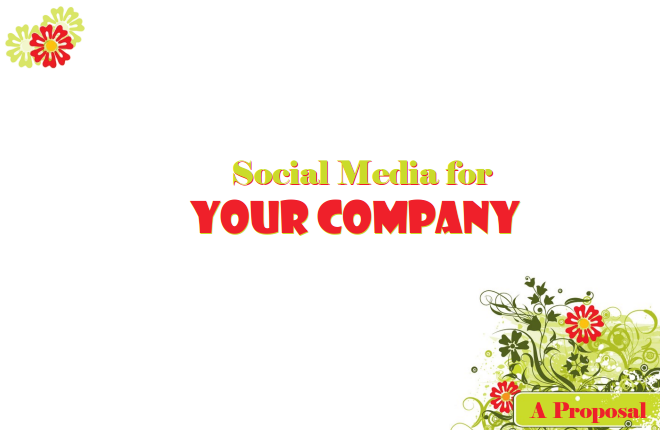 This proposal is designed with detailed insights of social media channels. With this style, you can provide the following elements:
Executive summary
Problem definition about the client's brand
Solution to the existing problems
Detailed insights of each social media channel
Work statement having team members with their responsibilities and contractual agreement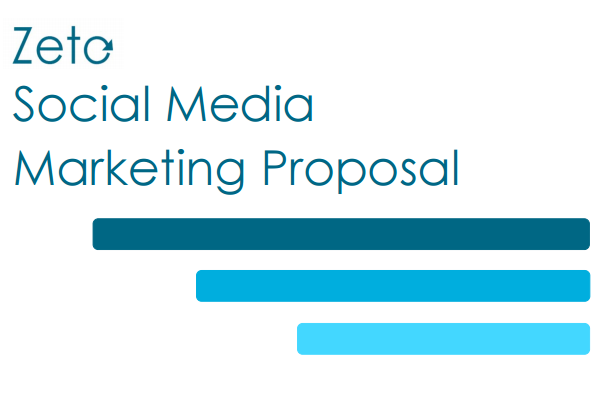 With a very elegant color scheme of white and yellow color, you and acquire potential clients with this template. The proposal covers following aspects:
Your company's approach
Projec description
Time allocation
Pricing criteria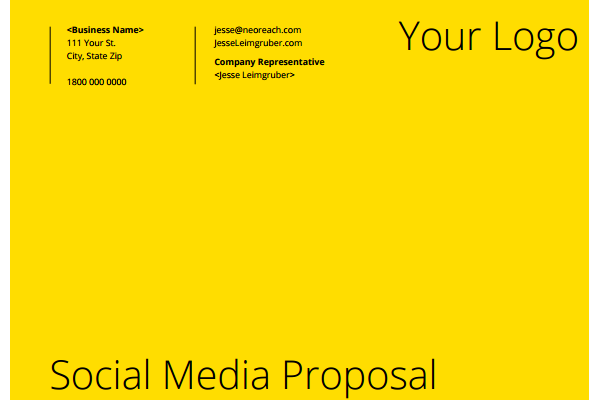 Another very detailed form of proposal (explaining each and every phase) is here with this template. Let's discover what this proposal embodies:
Executive summary
Supporting evidence to prove why social media is critical for a business
Project overview
Basic social media strategy with each social media channel explained in details
Cost estimation
Details about the company/freelancer proposing services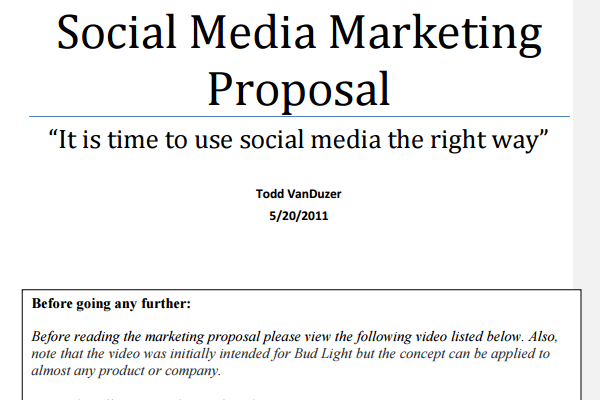 If you want a detailed proposal with every phase and step explained thoroughly, this template is definitely an ultimate solution for you. This covers following points:
Overall goals and objectives
Market analysis
Social media marketing strategy
Action plan in tabular format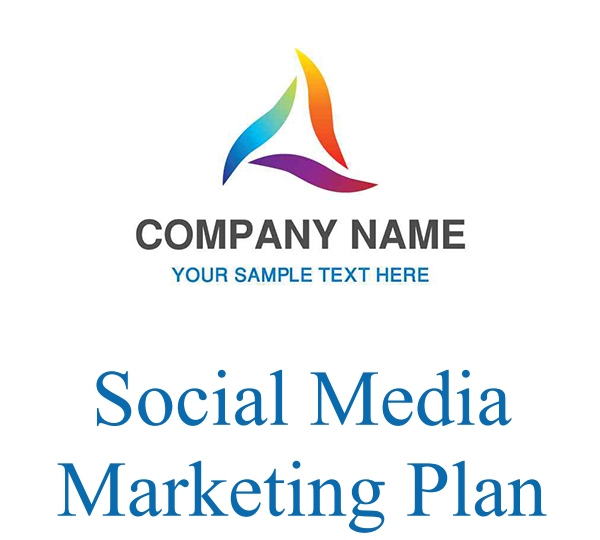 This is another a basic kind of social media proposal template that can be customized only for social media marketing. It clearly states the significance of social media marketing and services related to it. A complete pricing criteria  is also provided in tabular format to make everything clear.